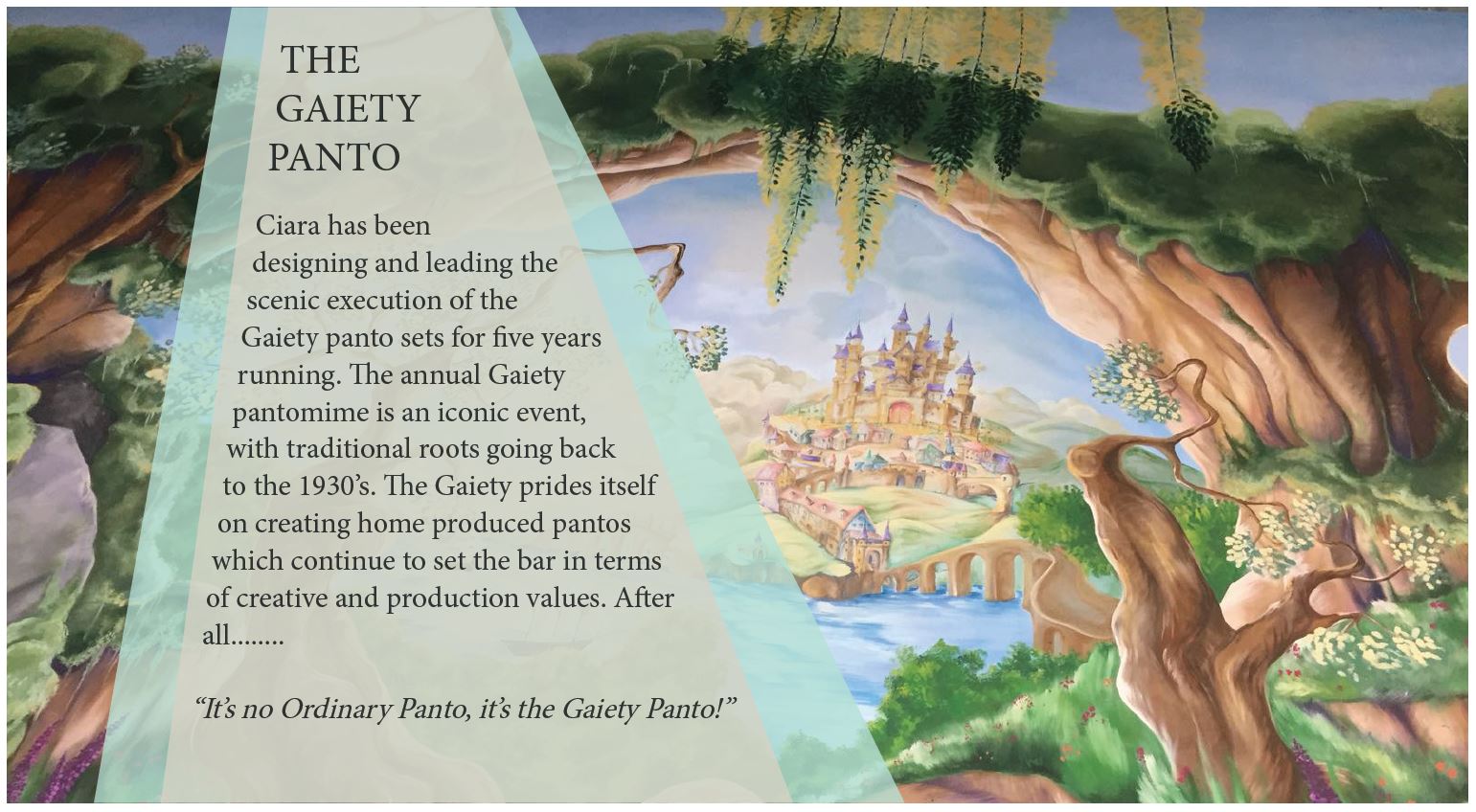 The annual Gaiety Panto is a immense undertaking for every department involved. The team responsible for set design, construction, and scenic set to work several months before the show opens. 
Within a single panto, the Gaiety Theatre may commission over ten 3 dimensional set pieces; oftentimes vast in scale, and always meticulously detailed and fully operational by the cast and crew. An accompanying collection of smaller set pieces and props are also designed and created each year, in keeping with the visual theme. 
Alongside the 3D sets, the Gaiety Panto honours the tradition of illustrated panto cloths, used to set the background scene. The Gaiety Panto cloths measure a colossal 12m wide x 8 metres high. The original design and execution of up to eight such cloths may be commissioned each year.
Check out the full creative process " FROM PENCIL TO PRODUCTION" below.
The Gaiety Panto is directed annually by Daryn Crosbie, and produced by the Gaiety
Theatre led by Caroline Downey (theatre owner).
Photo: The Gaiety Theatre

Set Design: Ciara Cramer
Cloth Design: Gráinne Bath Enright
& Ciara Cramer
Head of Construction: Vincent Bell
Scenic Team Leads: Ciara Cramer,
Gráinne Bath Enright, Emma O'Keeffe
See Panto Years below for further details.
WATCH THE MAGIC REVOLVE…………
……………………Grannies Cottage from Little Red Riding Hood and the Big Bad Wolf. Design by Ciara Cramer.
Director: Daryn Crosbie
Granny: Joe Conlan
Video: The Gaiety Theatre
FROM PENCIL TO PRODUCTION
Ciara breaks down her process, and explains what is involved at each stage of set production; from idea development, through to design, realisation, and finally installation.
RAPUNZEL'S TOWER
                     START TO FINISH